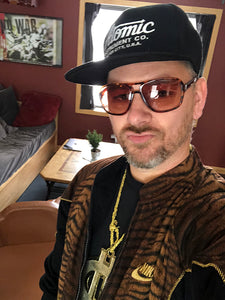 Producer wants the drummer to set up and play his drums on the bare concrete floor without a drum rug but the drummer is not having it. He know that his drums will slide all over the place without a rug. He's worried most about his kick drum because in the past he has kicked the drum across the room on the first take. What will happen when KBrakes Grips shows up to save the day?  KBrakes Grips are the only drum anchor of their kind in the entire world. A patented grip technology bottom that will stop any part...
---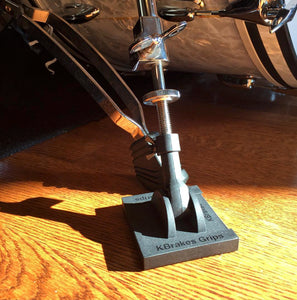 KBrakes 512s • 512 Stopping Points that dig into the carpet and lock your kick drum in place and stop your kick drum from creeping • 180º Rotation Capabilities that allow KBrakes to stay attached to your drum while it's packed in your case • Designed to fit 99% of modern and vintage kick drums on the market • KBrakes suspend your spur tips giving your kick drum a full frequency range and maximum volume • KBrakes gives your kick drum a larger foundation to play on that creates maximum stability  KBrakes Grips • KBrakes Grips attaches to KBrakes 512s...
---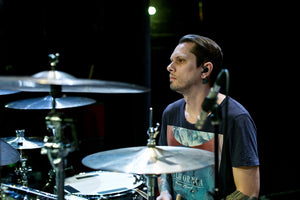 This is a great story from Chris Hornbook about his drumming and drumming roots with Modern Drummer Magazine! Hello Modern Drummer readers, Chris Hornbrook here. I'm currently writing this piece while doing a few live shows and radio performances with Dhani Harrison out on the East Coast. Dhani just released his solo debut record In///Parallel through HOT Records (BMG). We've been pretty busy doing lots of promo leading up to its release. To be honest, it's been nonstop and so much fun, which is always good. To give you a little bit of background, I started drumming when I was...
---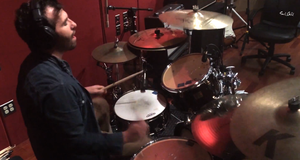 Check out Matt Covey of Such Gold talking to Modern Drummer Magazine!    Hello, MD readers! "Faced" should feel like a sophisticated pop song cloaked in the sounds and forward-motion of a melodic hardcore punk band. In other words, we strived to use the sound of fury in the service of craft songwriting. That's the way I hear our new album, The New Sidewalk. There's a lot to talk about here, but I'll just point out some crucial things to look for. I decided to evoke the punishing style of Ben Koller (Converge) when writing my parts for "Faced." Although...
---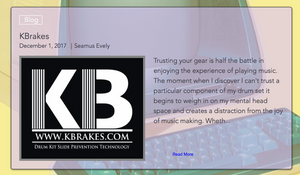 I had a really great time tasing with Seamus and shooting emails back and forth. We talked a lot about drumming, touring, and product development. Any entrepreneur or product developer will always encounter some barriers and constraints while creating products. Creating something like KBrakes wasn't any different. We talked a little about the new products KBrakes Grips and KBrakes HiStops and how they solve new problems of the bass drum creeping and playing without a drum rug. I won't spoil the whole thing for you. Check out the entire article here:  https://www.drumgab.com/single-post/2017/12/01/KBrakes